Anime Adventures Codes: Are you a fan of anime and looking for exciting adventures in the virtual world? Look no further!
Roblox Anime Adventures is here to provide you with a thrilling gaming experience filled with anime-inspired quests and battles. To enhance your gameplay, we have gathered a list of exclusive codes that will give you in-game rewards, currency, and much more.
In this article, we will guide you through the world of Roblox Anime Adventures codes, how to redeem them, and the benefits they offer. So, gear up and get ready to embark on an extraordinary journey!
What is Anime Adventure?
Anime Adventures is a popular role-playing game (RPG) on the Roblox platform that allows players to dive into a vibrant anime-inspired universe. With its immersive gameplay and captivating storyline, Anime Adventures has gained a massive following from anime enthusiasts and gamers alike.
The game offers a vast open world where players can explore, battle formidable foes, complete quests, and uncover hidden treasures.
Active Anime Adventures codes
Here are the new Anime Adventures codes:
MADOKA – 500 gems
DRESSROSA – 250 gems
BILLION – 12 mythic world jumpers and 2,500 gems
ENTERTAINMENT – 500 gems
HAPPYEASTER – 500 gems
VIGILANTE – 250 gems
GOLDEN – 500 gems
GOLDENSHUTDOWN – 500 gems
SINS2 – 250 gems
SINS – 500 gems
UCHIHA – 250 gems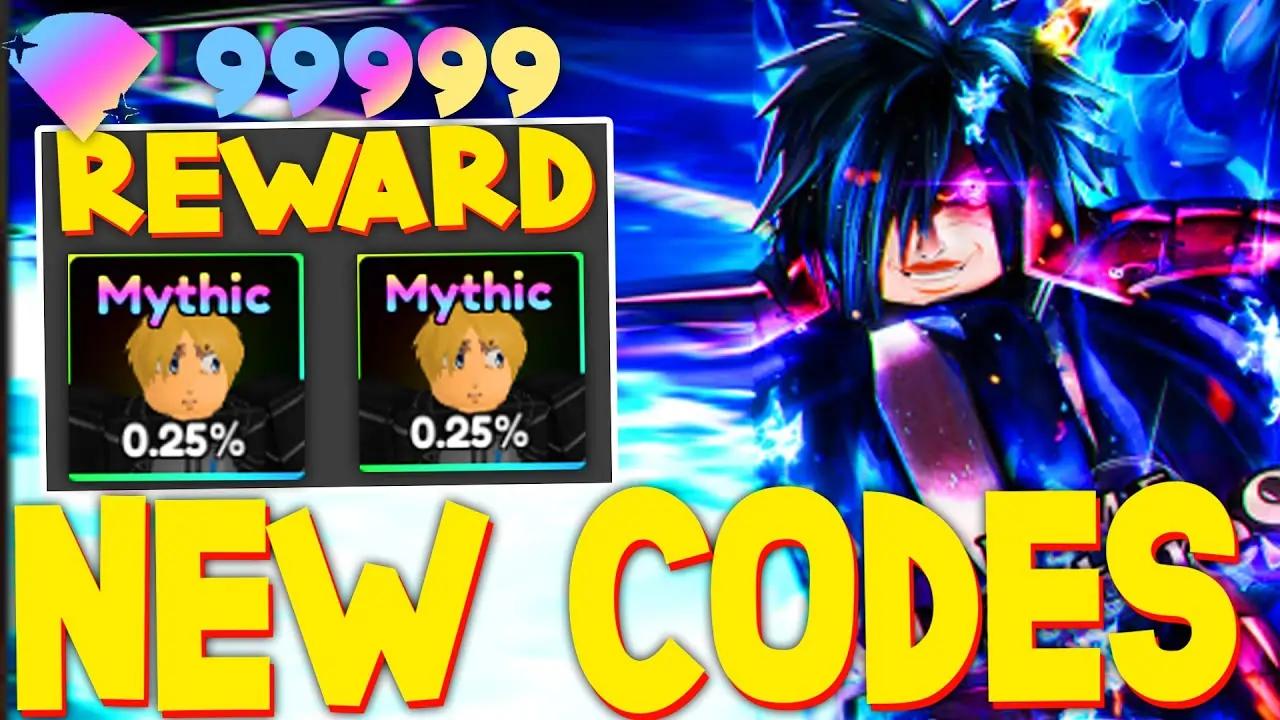 Expired codes for Anime Adventures
Unfortunately, codes in Roblox Anime Adventures can expire after a certain period. Here are some codes that are no longer active:
HERO
CLOUD
CHAINSAW
NEWYEAR2023
CHRISTMAS2022
GRAVITY
PORTALFIX
UPDATEHYPE
KARAKORA2
KARAKORA
CLOVER2
HALLOWEEN
CURSE2
SORRYFORSHUTDOWN2
CURSE
FAIRY
subtomaokuma
SubToKelvingts
SubToBlamspot
KingLuffy
TOADBOIGAMING
noclypso
FictioNTheFirst
Cursed
SERVERFIX
HUNTER
QUESTFIX
HOLLOW
MUGENTRAIN
GHOUL
TWOMILLION
FIRSTRAIDS
DATAFIX
MARINEFORD
RELEASE
CHALLENGEFIX
GINYUFIX
SORRYFORSHUTDOWN
TWOMILLION
How to Redeem Roblox Anime Adventures Codes?
To make the most out of your Roblox Anime Adventures experience, it's essential to know how to redeem codes. Follow these simple steps to unlock incredible rewards:
Launch Roblox Anime Adventures on your device.
Look for the "Codes" button on the main menu and click on it.
A new window will appear, prompting you to enter a code.
Copy one of the active codes from our list below and paste it into the text box.
Click the "Redeem" button to claim your reward.
Enjoy the in-game benefits and make your anime adventure even more exciting!
How to Find Roblox Anime Adventures Codes?
Finding Roblox Anime Adventures codes can be an exciting quest in itself. To discover the latest codes, you can try the following methods:
Official Social Media Channels: Follow the official Roblox Anime Adventures accounts on platforms such as Twitter, Instagram, and Discord. The developers often share exclusive codes and announcements through these channels.
Community Forums and Websites: Join Roblox communities and forums where players discuss Anime Adventures. Fellow gamers may share codes they have discovered, giving you an opportunity to access additional rewards.
Developer's Game Page: Keep an eye on the game's page on the Roblox platform. Occasionally, developers release codes directly on the game page or in the game's description.
By actively searching for codes and staying connected with the Anime Adventures community, you'll have a higher chance of finding valuable codes to enhance your gameplay.
Benefits of Using Codes in Roblox Anime Adventures
Using Roblox Anime Adventures Codes can significantly enhance your gaming experience. Here are some benefits you can enjoy by redeeming codes:
Exclusive Rewards: Codes provide you with access to exclusive in-game rewards such as Gems, Gold, Potions, and rare items. These rewards can give you a competitive edge and help you progress faster in the game.
Currency Boost: Some codes offer a substantial amount of in-game currency, allowing you to purchase powerful weapons, gear, and other upgrades to improve your character's abilities.
Unlocks and Enhancements: Certain codes unlock special characters, pets, or abilities that are otherwise inaccessible. By redeeming these codes, you can unlock hidden potentials and explore new gameplay elements.
Community Engagement: By participating in code redemption, you become an active member of the Anime Adventures community. You can share your achievements, discoveries, and strategies with fellow players, fostering a sense of camaraderie and collaboration.
Tips for Using Roblox Anime Adventures Codes
To make the most out of your Roblox Anime Adventures codes, consider the following tips:
Stay Updated: Codes have an expiration date and can become inactive. Stay updated with the latest codes by following official channels and being an active member of the community.
Redeem Promptly: Once you discover an active code, redeem it promptly to ensure you don't miss out on valuable rewards. Remember, some codes have limited uses and can expire quickly.
Share and Collaborate: Engage with the Anime Adventures community to learn about new codes and share the codes you have discovered. Collaborating with fellow players can help everyone unlock more rewards and enjoy the game together.
Explore New Updates: Roblox Anime Adventures frequently releases new updates and events. Keep an eye out for these updates as they may include new codes and exciting content.
Latest Updates and Events in Roblox Anime Adventures
As an avid player, you'll be delighted to know that Roblox Anime Adventures constantly introduces new updates and events to keep the gameplay fresh and exciting.
Stay tuned for the latest updates, which may include new Anime Adventures codes, quests, characters, and much more. Immerse yourself in the evolving world of Anime Adventures and experience new dimensions of adventure!
FAQs
Can I use the codes in Anime Adventures multiple times?
No, most codes in Anime Adventures can be redeemed only once per account. Once you have claimed the rewards for a particular code, it cannot be used again.
Are there any age restrictions for playing Roblox Anime Adventures?
Roblox Anime Adventures is a family-friendly game suitable for players of all ages.
Can I share Anime Adventure codes with my friends?
Yes, you can share codes with your friends in Roblox Anime Adventures. Sharing codes can be a fun way to help each other progress and enjoy the game together.
Is it safe to use codes in Roblox Anime Adventures?
Yes, it is safe to use codes in Roblox Anime Adventures. Codes are provided by the game's developers and are meant to enhance your gaming experience.