Are you a fan of the popular Roblox game Blox Fruits? If so, you're in for a treat! In this article, we will delve into the world of Blox Fruits codes and how they can enhance your gaming experience.
Whether you're a seasoned player or just starting your pirate journey, these codes will provide you with valuable rewards and unlock new adventures. So grab your sword and join us as we unravel the secrets of Blox Fruits!
What Are Blox Fruits Codes?
Blox Fruits codes are special combinations of letters and numbers that can be redeemed within the game to obtain various rewards. These codes are periodically released by the game developers as a way to thank the player community, promote new updates, or celebrate milestones.
By entering these Blox Fruits redeem codes in the designated area, you can unlock a range of benefits such as in-game money, experience boosts, weapons, and much more.
Latest Active Blox Fruits Codes
To make the most of your Blox Fruits adventure, it's essential to stay up-to-date with the latest active codes. Here are some of the currently active Blox Fruits codes:
Sub2CaptainMaui – 20 minutes of 2x experience
DEVSCOOKING – 20 minutes of 2x experience
kittgaming
Sub2Fer999 – 2x experience
Enyu_is_Pro – 2x experience
Magicbus – 2x experience
JCWK – 2x experience
Starcodeheo – 2x experience
Bluxxy – 20 minutes of 2x experience
fudd10_v2 – beli
SUB2GAMERROBOT_EXP1 – 30 minutes of 2x experience
Sub2NoobMaster123 – 15 minutes of 2x experience
Sub2UncleKizaru – stat refund
Sub2Daigrock – 15 minutes of 2x experience
Axiore – 20 minutes of 2x experience
TantaiGaming – 15 minutes of 2x experience
StrawHatMaine – 15 minutes of 2x experience
Sub2OfficialNoobie – 20 minutes of 2x experience
Fudd10 – $1
Bignews – in-game title
TheGreatAce – 20 minutes of 2x experience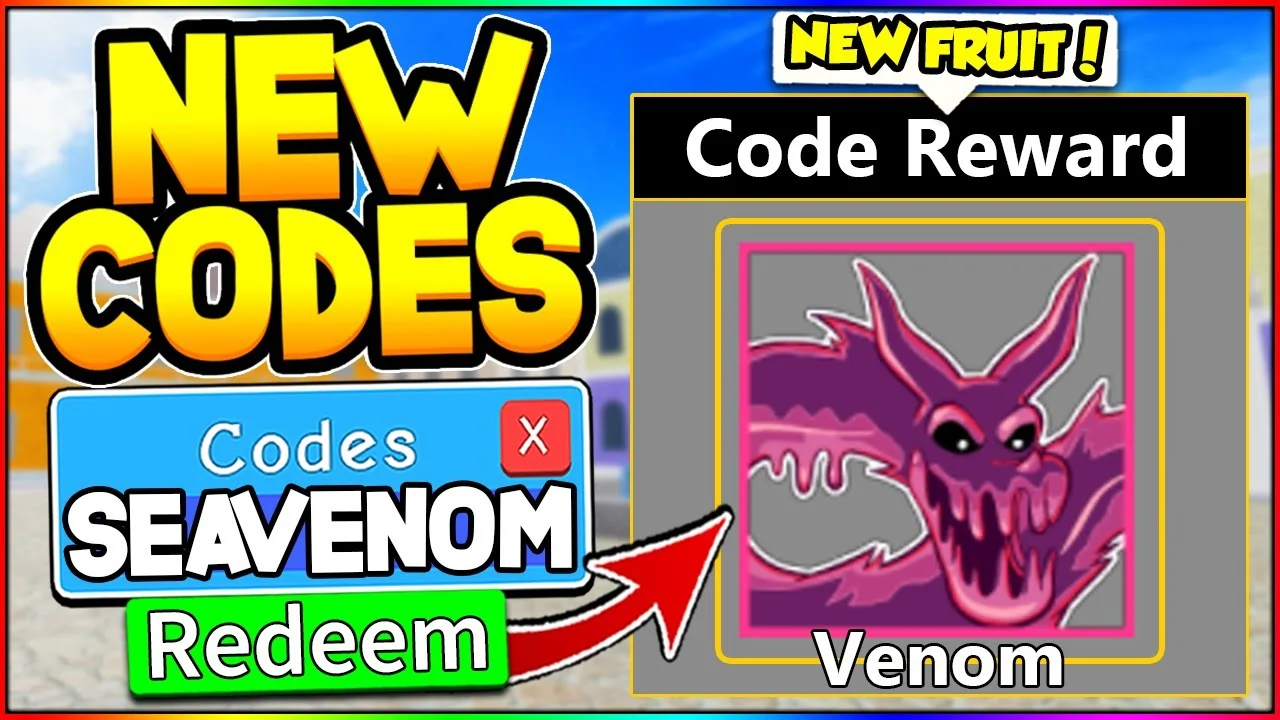 Expired Roblox Fruits Codes
While it's essential to keep track of active codes, it's equally crucial to be aware of expired codes. Expired codes can no longer be redeemed, as they have reached their usage limit or their validity period has ended. Here are some examples of expired Blox Fruits codes:
NOOB_REFUND
15B_BESTBROTHERS
CINCODEMAYO_BOOST
ADMINGIVEAWAY
GAMER_ROBOT_1M
SUBGAMERROBOT_RESET
SUB2GAMERROBOT_RESET1
GAMERROBOT_YT
TY_FOR_WATCHING
EXP_5B
RESET_5B
UPD16
3BVISITS
2BILLION
UPD15
THIRDSEA
1MLIKES_RESET
UPD14
1BILLION
ShutDownFix2
XmasExp
XmasReset
Update11
PointsReset
Update10
Control
How to Redeem Blox Fruit Codes?
Redeeming Blox Fruit codes is a straightforward process. Follow the steps below to make the most of the available codes:
Launch Blox Fruits on Roblox and log into your account.
Look for the "Menu" button located on the left side of the screen.
Click on the "Menu" button to open a dropdown menu.
In the menu, you will find an option called "Codes." Click on it.
A new window will appear, prompting you to enter a code.
Type or paste the desired Blox Fruits code into the box.
Click the "Try" button to redeem the code.
If the code is valid, you will receive the corresponding rewards instantly.
Where can I get more Blox Fruits codes?
If you're eager to obtain more Blox Fruits codes to unlock exclusive rewards in the popular Roblox game, there are several reliable sources you can explore. The official Blox Fruits social media channels, such as Twitter, Instagram, and Facebook, often release codes for players to redeem.
Influencers and YouTubers frequently host giveaways where they distribute Blox Fruits codes. Engaging with Roblox community forums, groups, and dedicated Discord servers can also lead you to valuable code discoveries.
By conducting keyword research, utilizing long tail keywords, and following dedicated code-sharing websites, you can maximize your chances of acquiring a treasure trove of Blox Fruits codes. Stay connected, stay active, and open up a world of exciting rewards!
FAQs
Yes, Blox Fruits codes can be redeemed on any platform where Roblox is available, including PC, mobile devices, and consoles.
Can I use Blox Fruits codes multiple times?
No, each code can usually be redeemed only once per Roblox account.
Can I share Blox Fruits codes with others?
Absolutely! Sharing codes with friends or fellow players can contribute to a thriving community experience in Blox Fruits.
Are Blox Fruits codes free?
Yes, Blox Fruits codes are free for players to use. The developers release these codes as a way to engage with the community, reward loyal players, and enhance the overall gaming experience. Take advantage of these codes to unlock valuable rewards without spending any real-world currency.