On Saturday, a fierce winter storm that had already caused flooding and freezing temperatures across the West Coast turned its attention to Southern California. As a result, rivers rose to perilous levels while snow blanketed even the lowest-lying areas in the Los Angeles region.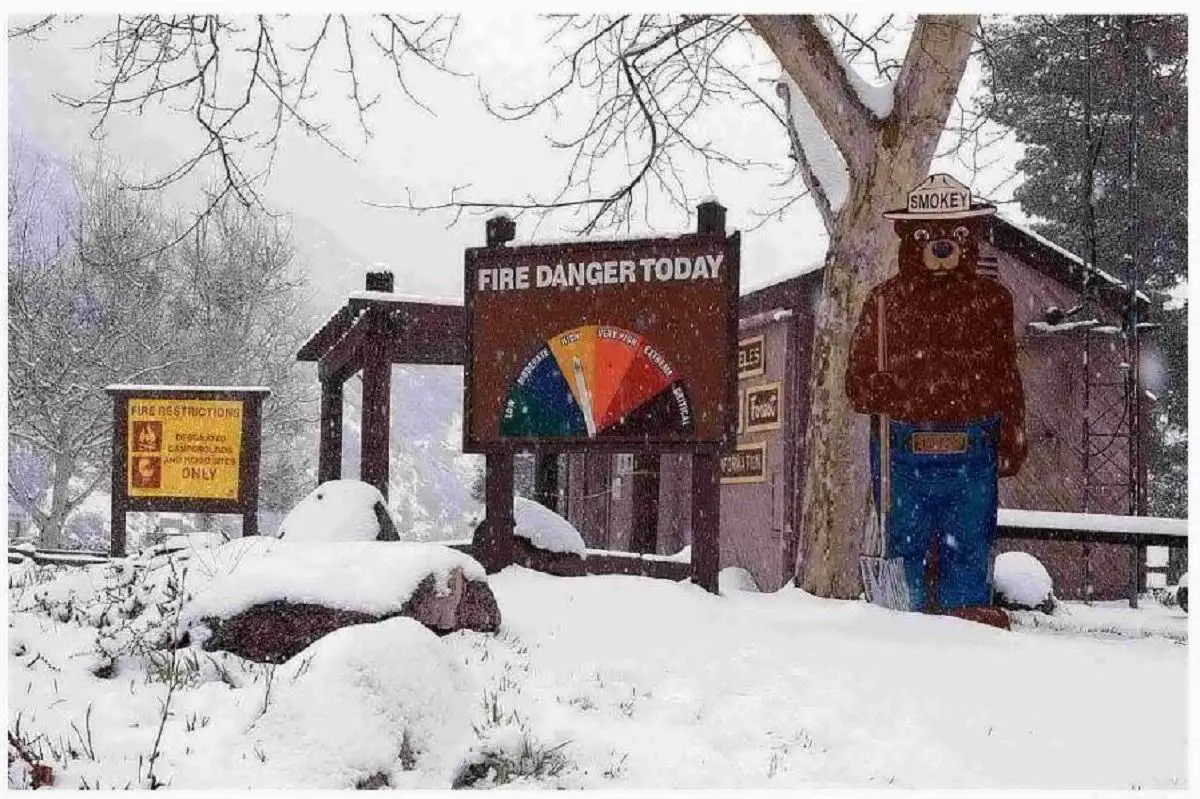 The National Weather Service reported that the storm was one of the most powerful to ever hit Southern California. Even after the intensity of the wind and rain had subsided, it still had a major impact; snowfall was recorded at elevations as low as 1,000 feet. Suburban Santa Clarita, situated to the north of Los Angeles, was covered in snow, and other inland suburbs to the east were also left in a wintery white.
The storm that had battered California with heavy winds and heavy snow for days showed signs of tapering off, giving some relief to forecasters and residents. Nevertheless, Blizzard warnings were still in effect in the mountains, while flood advisories covered the region. The resulting damage had left over 117,000 utility customers in California without electricity, as reported by PowerOutage.us.
Furthermore, Interstate 5, the main north-south highway along the West Coast, was still closed due to heavy snow and ice in Tejon Pass, north of Los Angeles.
As of Saturday morning, the Mountain High resort in the San Gabriel Mountains northeast of Los Angeles had seen an incredible 81 inches of snow, while Snow Valley in the San Bernardino Mountains had received up to 64 inches.
National Weather Service meteorologist Zach Taylor commented on the situation, saying, "We've already had reports of 2 to 3 feet across some of the higher peaks, and we can expect an additional foot, maybe two, of snowfall by the end of the day."
STILL SNOWING: I-5 Grapevine continues to see heavy winter conditions at Apple Canyon near Pyramid Lake in @CountyofLA. Closure is from Parker Rd to Grapevine Rd. @CaltransDist7 continues to work around the clock to clear roadways, drains and debris. pic.twitter.com/h4uusTYpWB

— Caltrans District 7 (@CaltransDist7) February 25, 2023
On Saturday, the Los Angeles Fire Department had to employ a helicopter to rescue four homeless people stranded in the city's major flood control basin. Two of the individuals were taken to a hospital due to hypothermia, as per spokesperson Brian Humphrey.
Additionally, in the Valencia neighborhood of north Los Angeles County, three motorhomes were swept away into the Santa Clara River after an embankment collapsed. Fortunately, nobody was inside the motorhomes and there were no injuries reported by the L.A. County Fire Department.
This incident was reported by CBS Los Angeles. The raging runoff of the Los Angeles River and other waterways that are usually dry or have a small flow was a consequence of the heavy rainfall.
On Saturday afternoon, the L.A. County Fire Department Lifeguard Division warned people to stay indoors due to lightning strikes, tweeting "When thunder roars go indoors."
The National Weather Service's Weather Prediction Center forecasted that heavy snow would blanket the Cascade Mountains and the Sierra Nevada for the rest of the weekend. As a result, Yosemite National Park in Central California announced that it would be closed through Wednesday due to inclement weather. All L.A. County beaches were also closed due to the thunderstorms.
The National Weather Service office in Las Vegas predicted that a low-pressure system would bring considerable amounts of rain and snow to southern Nevada on Saturday afternoon, and to northwest Arizona on Saturday evening and Sunday morning.
The service has also issued an avalanche warning for the Sierra Nevada backcountry around Lake Tahoe, which sits on the California-Nevada border. By Friday, nearly 2 feet of fresh snow had already accumulated, and another 5 feet is expected when a storm comes in with gale-force winds and intense flurries on Sunday.
A winter storm was expected to bring snow to Arizona, the upper Midwest, and the Northeast, as well as pockets of freezing rain to the central Appalachians, over the weekend. Flagstaff was predicted to receive up to a foot of fresh snow, while the central high Plains should experience the storm's effects by Sunday evening.
Tragically, three lives have been lost due to the severe weather affecting the country. On Wednesday, a Michigan firefighter was killed while responding to a power line issue, and a pedestrian in Rochester, Minnesota was fatally struck by a snowplow.
In Oregon, a person perished from hypothermia. Over 350,000 individuals have been left without power in Michigan, and utility companies DTE and Consumers Energy are working hard to restore electricity to most customers in the area by Sunday evening.
After this week's record-setting snowfall of nearly 11 inches, the streets of Portland were largely deserted as icy roads kept people indoors. The sun shone and temperatures climbed to around 40 degrees on Saturday afternoon, but more snow is expected to fall overnight and Sunday.