The Khelo India Youth Games 2022 has begun in Panchkula on Saturday (June 4). The multi-sport tournament, which was officially named Khelo India Youth Games 2021 because it was unable to take place last year due to the COVID-19 epidemic, has gotten off to a good start.
Nearly 8,500 players, coaches, and support staff will participate in the fourth edition of the KIUG, which will be organised from June 4 to June 13.
A total of 1,866 medals, consisting of 545 gold, 545 silver, and 776 bronze, will be awarded to players from across India.
The announcement said that 25 sports would be played at five locations: Panchkula, Ambala, Shahabad, Chandigarh, and Delhi. The primary venue for sports competitions will be the Tau Devi Lal Sports Complex in Panchkula, where around 7,000 spectators can be seated.
For the first time, five traditional sports, Gatka, Kalaripayattu, Thang-Ta, Mallakhamba, and Yogasana, have been included in this competition, the statement said.
KIYG has discovered several athletes, including shooters Manu Bhaker, Mehuli Ghosh, Saurabh Chaudhary, and weightlifter Jeremy Lalrinnunga, who were able to compete for India at either the Olympics, Youth Olympics, or Commonwealth Games.
Haryana, which produced multiple Olympic and Asian Games medalists, won the inaugural Khelo India School Games in 2018 to become the greatest sporting state.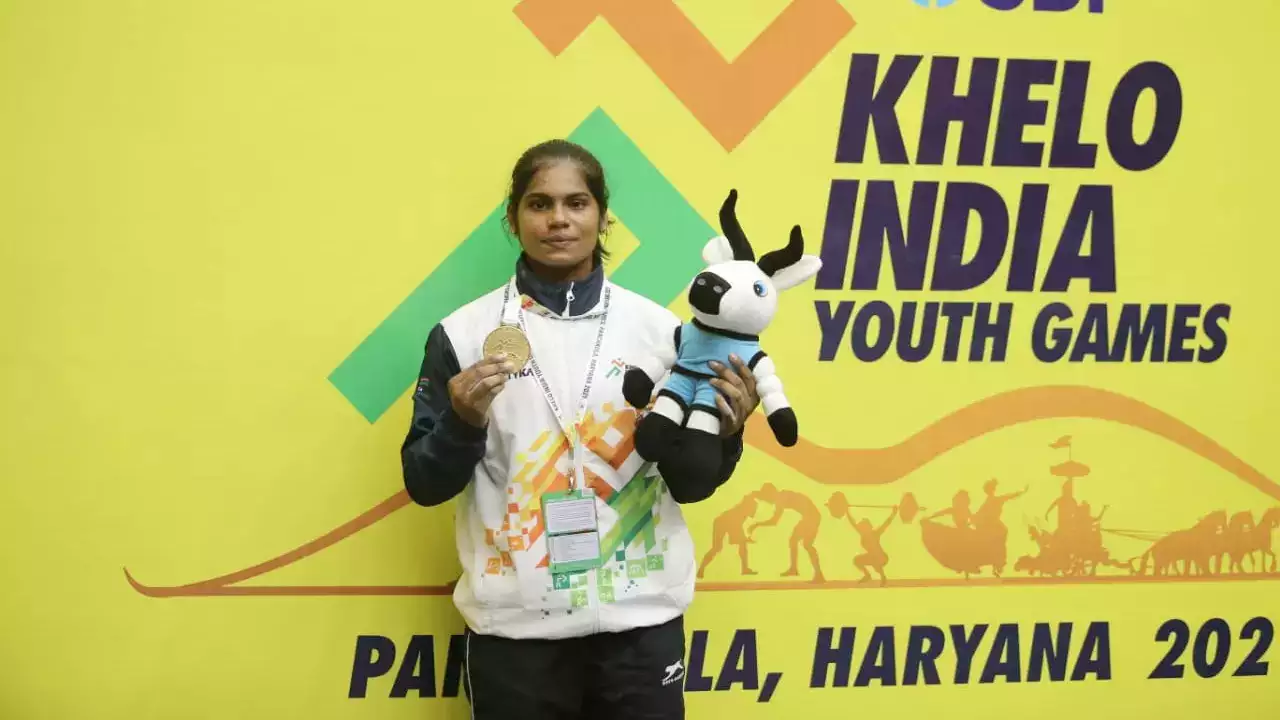 In the year after Maharashtra earned the top spot on the podium, it had been renamed the Youth Games, and they again triumphed, capturing 85 gold medals to Haryana's 62 in Pune.
In addition to securing 78 gold medals, Maharashtra reaffirmed their hegemony in Guwahati in the next edition as well, where they were matched by their fierce rivals.
Pankaj Nain, Haryana's sports director, has ensured that the athletes are provided with the best possible facilities at the three short camps held across the state as part of the Khelo India Youth Games 2021 programme. In addition to competing in every sport, Haryana has the largest contingent of 396 athletes.
A total of 318 players will participate in 23 of the 25 events in Maharashtra.
Delhi and Karnataka are seeking the third position in the overall standings, relying on swimming and athletics for the majority of their medals.
Delhi, with a team of 253 athletes, is hoping to close the gap between themselves and the top two competitors in various events.
Here's the medal tally of the Khelo India Youth Games 2022:
| Rank | State | Gold | Silver | Bronze | Total |
| --- | --- | --- | --- | --- | --- |
| Total | | 112 | 113 | 136 | 361 |
| 1 | Maharashtra | 24 | 24 | 19 | 67 |
| 2 | Haryana | 23 | 21 | 29 | 73 |
| 3 | Manipur | 12 | 3 | 2 | 17 |
| 4 | Tamil Nadu | 7 | 9 | 4 | 20 |
| 5 | Punjab | 6 | 5 | 6 | 17 |
| 6 | Uttar Pradesh | 4 | 7 | 9 | 20 |
| 7 | Madhya Pradesh | 4 | 4 | 5 | 13 |
| 8 | Rajasthan | 4 | 1 | 5 | 10 |
| 9 | Delhi | 3 | 7 | 15 | 25 |
| 10 | West Bengal | 3 | 3 | 4 | 10 |
| 11 | Chandigarh | 3 | 2 | 2 | 7 |
| 12 | Andaman & Nicobar Islands | 3 | 1 | 1 | 5 |
| 13 | Kerala | 2 | 2 | 1 | 5 |
| 14 | Andhra Pradesh | 2 | 3 | 1 | 6 |
| 15 | Goa | 2 | 1 | 0 | 3 |
| 16 | Tripura | 2 | 0 | 2 | 4 |
| 17 | Assam | 1 | 7 | 5 | 13 |
| 18 | Jammu and Kashmir | 1 | 4 | 3 | 8 |
| 19 | Arunachal Pradesh | 1 | 4 | 2 | 7 |
| 20 | Jharkhand | 1 | 2 | 3 | 6 |
| 21 | Karnataka | 1 | 1 | 3 | 5 |
| 22 | Chhattisgarh | 1 | 1 | 2 | 4 |
| 23 | Odisha | 1 | 0 | 1 | 2 |
| 24 | Himachal Pradesh | 1 | 0 | 0 | 1 |
| 25 | Telangana | 0 | 1 | 3 | 4 |
| 26 | Gujarat | 0 | 1 | 2 | 3 |
| 27 | Uttarakhand | 0 | 1 | 2 | 3 |
| 28 | Bihar | 0 | 0 | 1 | 1 |
| 29 | Mizoram | 0 | 0 | 1 | 1 |
| 30 | Puducherry | 0 | 0 | 1 | 1 |
| | Dadar & Nagar Haveli-Daman & Diu | 0 | 0 | 0 | 0 |
| | Meghalaya | 0 | 0 | 0 | 0 |
| | Ladakh | 0 | 0 | 0 | 0 |
| | Sikkim | 0 | 0 | 0 | 0 |
| | Lakshwadeep | 0 | 0 | 0 | 0 |