Google Maps is an excellent navigation tool, but it is much more than that. Google Maps has something to offer whether you're trying to get home, figuring out where to eat, or discovering when the supermarket is at its quietest.
Google Maps is constantly being updated and improved, but there is a slew of customizable tools and hidden features you may not be aware of, such as Incognito Mode. Check out our advice on how to get the most out of Google Maps.
Here we have curated the best Google Maps tips and tricks, have a look at them.
Add music to your playlist
If you're driving and using Google Maps, you can sync it with YouTube Music, Spotify, and (on iOS) Apple Music to control your music from within the Maps app.
Simply go to the settings menu and select "navigation controls." iOS users must then select "Music playback controls," whereas Android users must select "Show Media playback controls."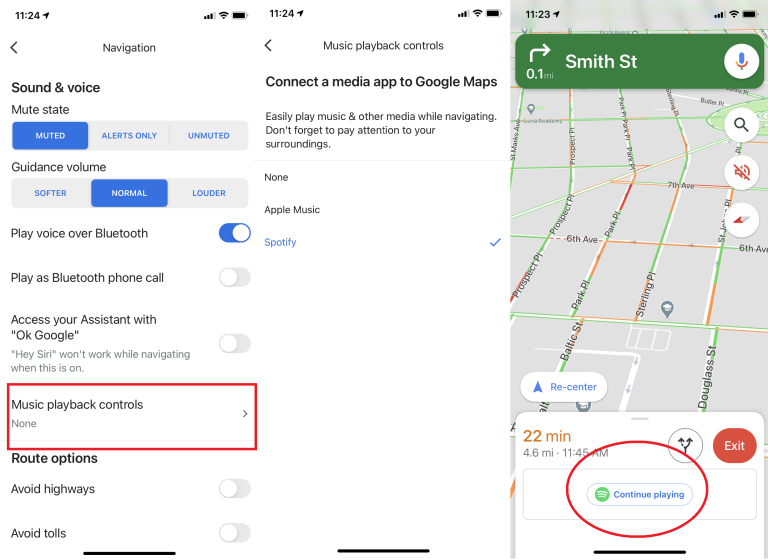 When you enable it, a pop-up menu will appear with a list of compatible apps that you have installed. To connect your accounts, follow the setup instructions. Every time you go for a drive, a balloon will appear on the side of the screen, giving you access to those controls.
Remember Where You Parked
Tap the little blue dot that represents your current location in Maps on your iPhone or Android phone. This will bring up a hidden menu with some useful options, such as the ability to save your current parking location. You can add your notes or photos, and you can even set a timer to remind you when it's time to move your car.
When you're ready to return to your parking spot, check your phone for the saved parking notification or open Maps and tap the "Parking location" card at the bottom of the screen.
Share Your Live Moving Location
Do you need someone to find you or simply know where you are? Examine Maps' straightforward system for real-time location sharing.
To try it, open Maps on your phone and, as in the previous tip, tap the blue dot, but this time, select "Share your location." You'll be able to specify an end time for the location sharing or keep it active until you turn it off manually. You can then share it with any of your contacts or get a private web link to paste wherever you want.
While using Maps, you can also access the sharing function by swiping up from the white bar at the bottom of the screen and selecting "Share trip progress." This will allow you to share your location with whoever you want until you arrive at your destination.
People who open the link will see an icon that shows your current location on a map as you move—either within the Maps app if they have it or in a regular browser window if they don't. You'll notice an indicator at the bottom of Maps indicating that location sharing is active, and you can always stop it by tapping the box.
Google Maps can be used to plot multiple locations
Most trips in a car involve more than just getting from one place to another. Instead, they usually go from point A to point B via several intermediate stops, such as the library, Joe's house, and the cafe. Good thing Google makes it possible to plan for actual trips in advance.
Enter your origin and final destination into the Google Maps app on your mobile device, and then tap the three dots in the upper right corner to add additional stops along the way.
When you do this, a menu with the "Add stop" option will appear. Inputting a route with multiple stops is as simple as clicking that. Your itinerary will also allow you to rearrange the locations you plan to visit. (Keep in mind that this won't help if you're taking public transportation)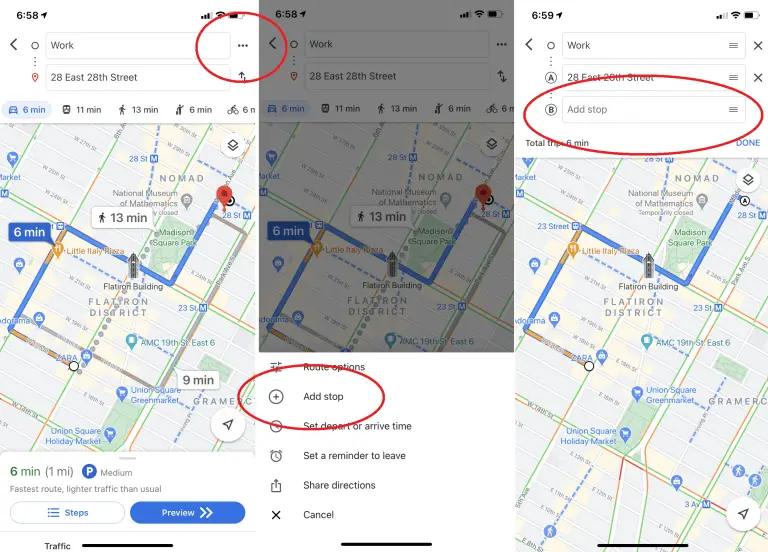 Do Time Travel With Google Maps
You aren't obligated to use Google Maps' most recent Street View images. They can essentially "go back in time" to see how a given location has changed over the years. At least as far back as Google's Street View archive goes.
To access Street View from your desktop, simply drag the yellow man in the bottom right corner. The menu bar will appear in the top left corner of the screen, and the time will appear in the top right. To see how a location changed between Google Van visits, just click the button and a timeline will appear.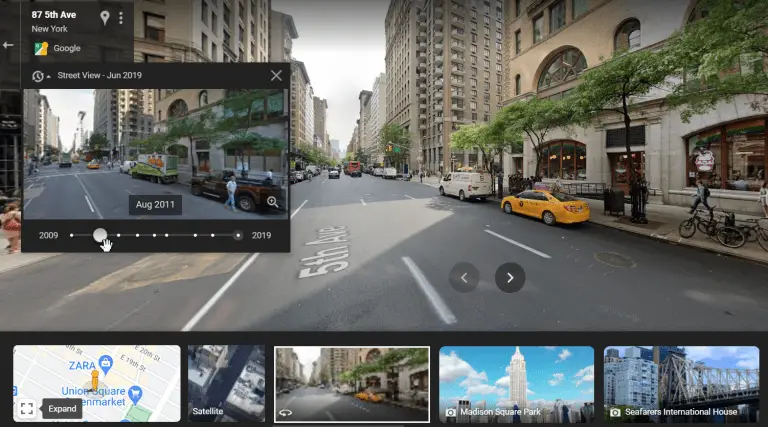 After being desktop-only for a while, the feature has finally made its way to mobile devices. Load the Street View filter and tap a location to see what it looks like from the ground up. Next, click See More Date to delve deeper into Google's historical records.
Go hands-free with Google Assistant
Drive safer and more efficiently with the help of Google Maps and Google Assistant. Keep in mind that you can do nearly everything in Maps by simply saying "Hey Google" to your device. One positive note: Android users can access it.
Users on iOS will need to take an additional step by tapping the microphone icon in the upper right corner of the screen. Anyone using Android, even if they haven't enabled Assistant, can benefit from this.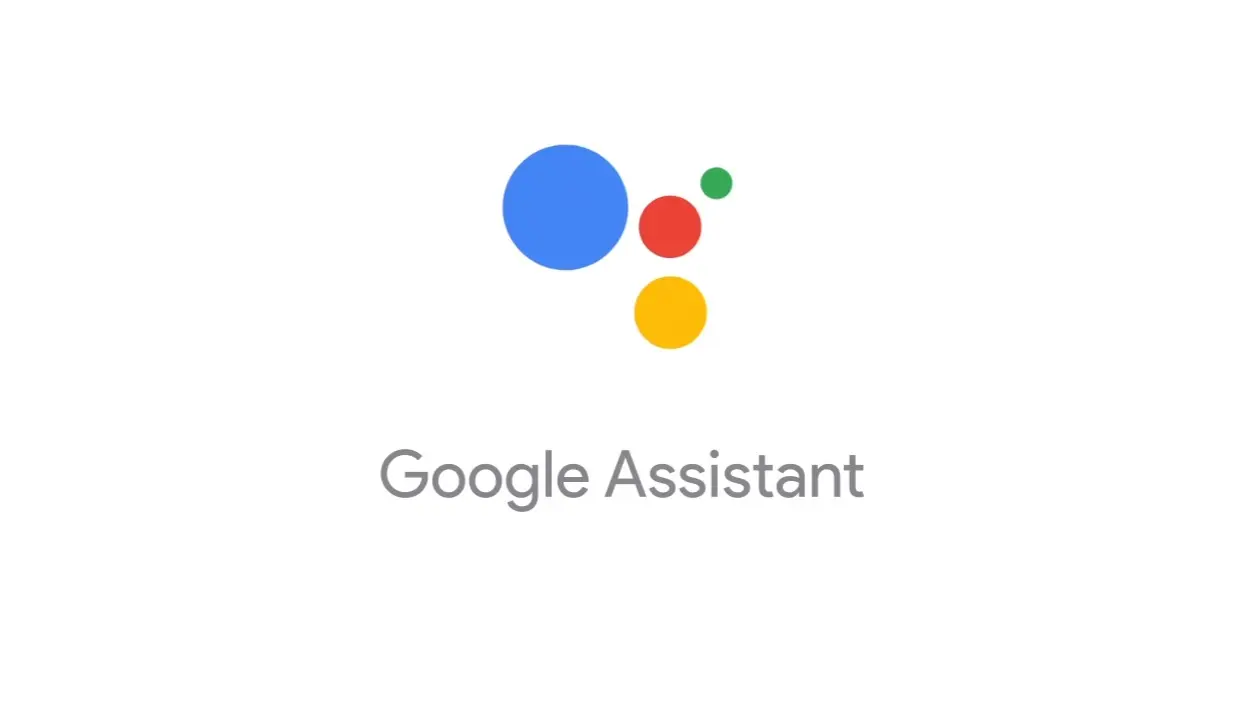 All of these tasks can be performed by voice command, so you won't have to take your eyes off the road to find a gas station, get directions, or adjust the volume.
Customize Your Vehicle
Google's iOS and Android navigation apps let you customize the vehicle that appears on the road ahead. Simply enter your destination and the app will begin directing you there. When you tap the icon representing your current location, a submenu comprising several automobile icons, including a sedan, a pickup truck, and an SUV, will appear.
Access Google Maps Offline
Today, Maps is most helpful on mobile devices, but this presents a challenge: you may be in an area with poor (or no) coverage just when you need it the most. Google Maps can be used even when you're not connected to the internet.
After entering a location or address, you can access a download option for an offline map by swiping up from the bottom of the screen, tapping the ellipsis symbol, and finally choosing to Download an offline map.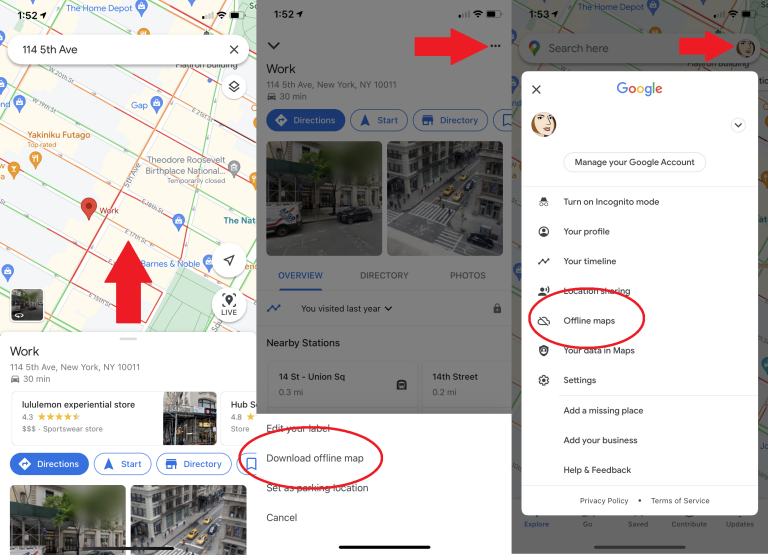 If your device has sufficient storage space, the map will be downloaded. By going to "Your Avatar" > "Offline Maps" at a later time, you'll be able to access the saved map with local business listings and turn-by-turn directions.
Find Accessible Routes and Locations
Those who have trouble getting around can find train or bus routes that are accessible by wheelchair by selecting Options > Wheelchair accessible.
Meanwhile, the Accessible Places setting will provide details regarding wheelchair access to your destination. Just go to your device's menu and select Settings > Accessibility > Accessible Places to activate it.
To help users "see if a place provides accessible dining, restrooms, or parking," Google's Accessible Places feature uses a wheelchair icon to denote accessible entrances (Opens in a new window). Maps will also provide information if it is determined that a location does not have an accessible entrance.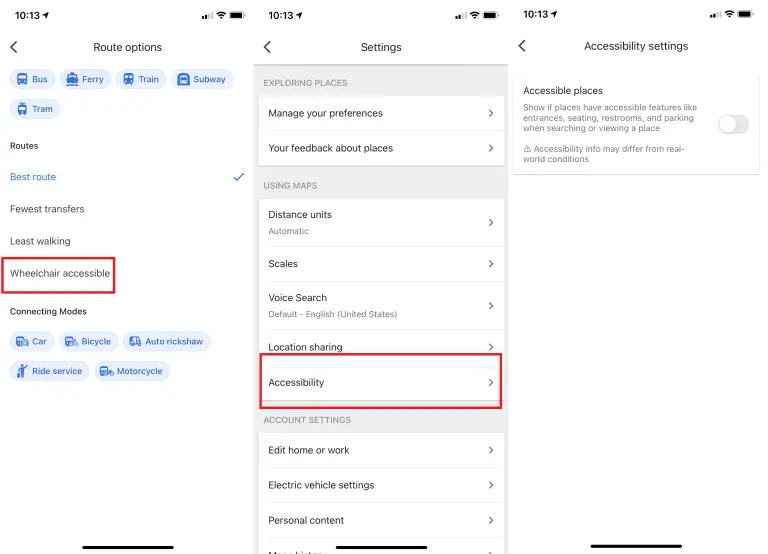 Remember Where You Parked
Do you all remember that Seinfeld episode where the gang spent the entire time searching the parking garage for their car? (Opens in a separate window) If the year were 2023, Google Maps would render that episode (and many others) obsolete.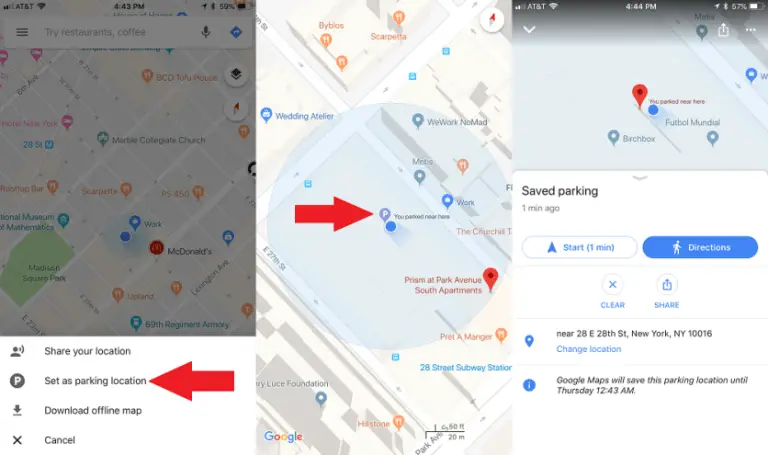 If you're using Android, you can save your parking spot by tapping the blue location dot and selecting Save Your Parking from the menu that appears. This will create a label in the Maps app. Click that to include more information, such as the garage level and specific parking slot, or the remaining meter time.
You can add a photo of your parked car, set a meter reminder, and share your parking spot with friends. Get back to it quickly by typing "Parking location" into the top search bar.
Alternatively, you can select the Driving option and then locate Saved Parking by tapping the corresponding button. Select Delete > Clear from the Driving menu. Alternatively, you can tap "You parked here" on the map, choose More Info on the left, and then hit Clear.
For iOS (see above), when you reach your destination, tap the app's tiny blue location dot to mark it. Select "Set as parking location" from the pop-up menu. You'll see a P icon and the text "You parked near here" when you open the app. Simply select Clear from the P menu to get rid of it.
Go Incognito
Quickly explore Google Maps without leaving a trace by switching to an anonymous user. To prevent Google Maps from saving your browsing and search history or sending you notifications, you can enable this setting.
Your location history or shared location will not be updated with your searches or movements. Using Incognito Mode also prevents Google from tailoring directions for you. It's useful if you want to look around somewhere without bringing up your search history, but it won't keep you anonymous in the app.
To activate it, tap your profile picture and choose Turn on Incognito mode; a new icon will show in the address bar to indicate that you are browsing in private. To disable it, tap it and select the option to "Turn off Incognito mode."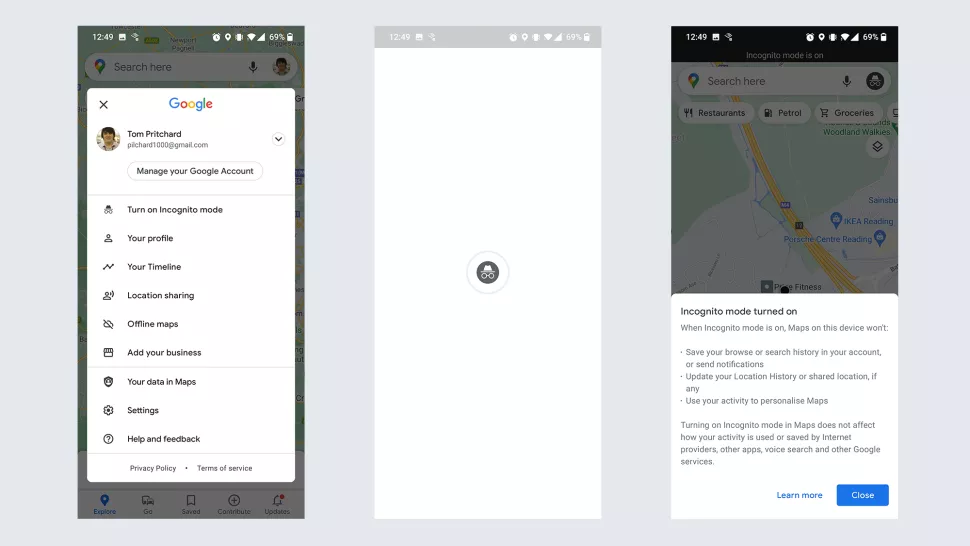 Find Electric Vehicle Charging Stations
Google Maps is adapting to the shifting demographics of road traffic by reflecting these shifts in the types of vehicles on the road. Google Maps now includes the ability to search for "EV charging" or "EV charging station" to locate the closest charging stations for electric vehicles.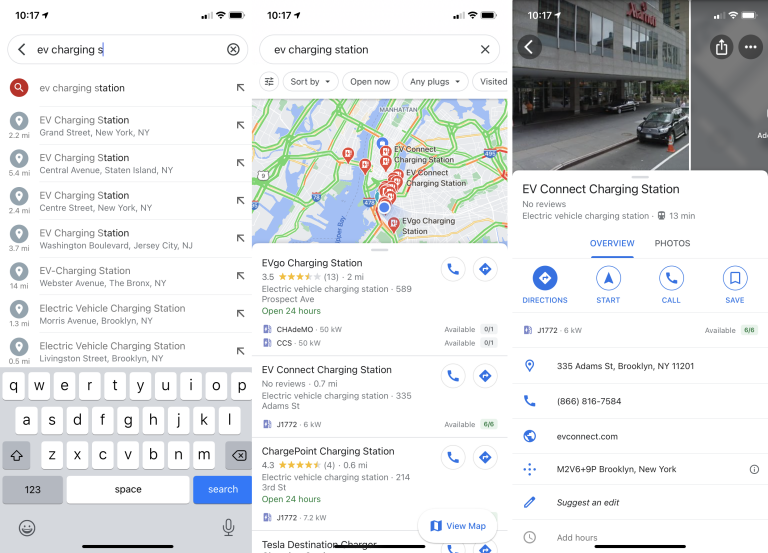 Share Your Favorite Places
If you want to tell a friend about a great restaurant, bar, or other attraction, all you have to do is hit the share symbol on the Google Maps card for that destination and choose the appropriate method of communication, whether it be text, email, or another app.
By tapping the Save button, frequently visited locations can be stored for later use and accessed via the Saved menu item. However, Google Maps allows you to make a Pinterest-style list of locations to share.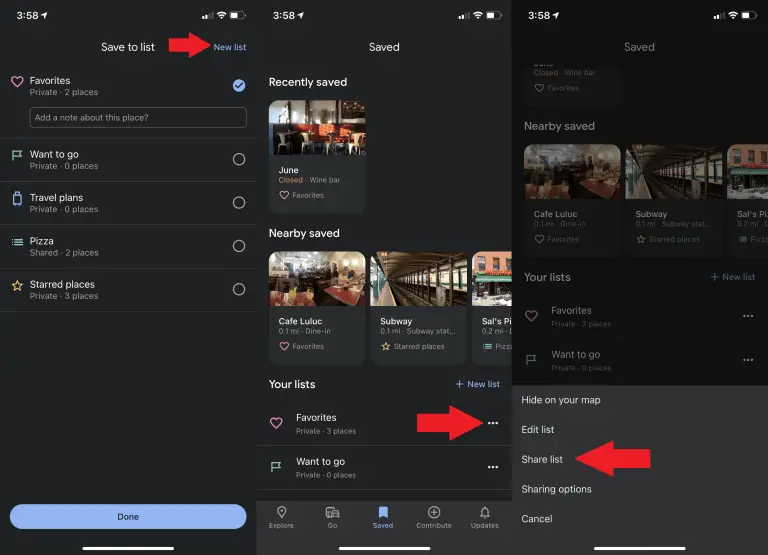 To create a new list (like "Favorite Thai eateries in Brooklyn") or add the location to an existing one, select New List after saving a favorite. Your lists may be found in the Saved section under Your lists; from there, you can share them with others by selecting the three-dot menu and clicking Sharing List.
Become a Local Guide
Do you think your local knowledge can outshine Google's? Then you should look into local guide jobs (Opens in a new window). Local Guides are a way to earn "rewards and early access to new features," according to Google, even though anybody may submit evaluations and tips in Google Maps.
Street View Into 'Mars On Earth'
Google is improving Street View so that viewers can get a better feel for magnificent locales and landscapes all over the world, such as the desolate Devon Island(Opens in a new window) in the Canadian Arctic, which has the most Martian-like landscape on Earth. Seeing everything in Street View's panoramic view brings it all home (Opens in a new window).
FAQs
Can I use Google Maps offline on iPhone and Android devices?
Yes, you can download offline maps on both iPhone and Android devices. Simply search for the desired area, tap on the place's name, and select "Download" to save it for offline use.
How accurate are the live traffic updates on Google Maps?
Google Maps uses a combination of real-time data from GPS-enabled devices, historical traffic patterns, and reports from other users to provide accurate live traffic updates. However, keep in mind that traffic conditions can change rapidly, so it's always advisable to stay updated during your journey.
Can I use Google Maps for navigation in other countries?
Yes, Google Maps provides navigation and maps for countries worldwide. It's a versatile tool that can assist you in navigating unfamiliar territories with ease.